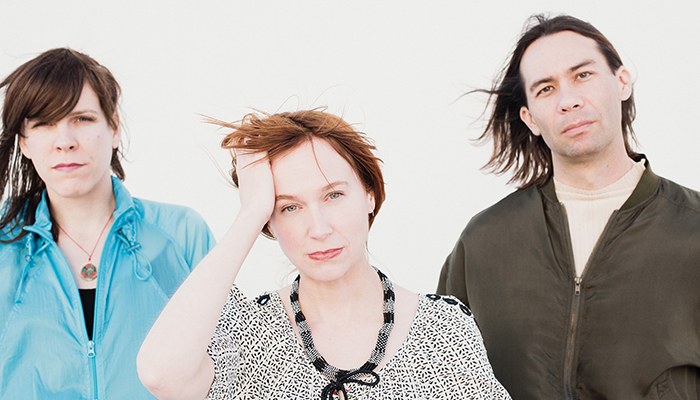 New Rainer Maria Album 'S/T'; Hear "Lower Worlds" Now
Posted 06/01/2017
We are absolutely thrilled to announce Rainer Maria's new album, S/T, out August 18th.
Before Rainer Maria were a band, they were all part of a booking collective, bringing punk and indie rock bands from around the world to their college town of Madison, Wisconsin in the mid-1990s. Kaia Fischer and William Kuehn had played music together before, but when they added Caithlin De Marrais to the mix, the trio took off. Together, they spun raw and tumultuous emotion into driving rock music, with literary and philosophical interests and influences that endeared them to many also searching through the underground for their place in the world.
Through several full-length albums and EPs paired with an ambitious amount of time spent in DIY spaces, basement shows, and rock clubs throughout the US, Rainer Maria cemented themselves as an early cornerstone for Polyvinyl, and as ambassadors of the midwest indie rock scene now so revered by later day musicians and fans.
Guided by their shared history as songwriters, and buoyed by their recent adventures and explorations in music and life as individuals, Rainer Maria's new album, S/T, fits like well worn boots with the spring of new soles.
The lyrics are full of natural imagery, influenced by the more pastoral setting outside De Marrais' window—soil and greenery, weather patterns, and other markers of country life. While sonically, S/T retains and even amplifies the core grit and vigor that Rainer Maria has always had as a band.
Stream the first single from the album, Lower Worlds, now via
NPR Music
or below.
Pre-orders
are available now on Early Bird Edition 180-Gram Clear LP (limited to 500), 180-Gram Black LP, CD, Clear Tape, and digitally. Bundles with a new t-shirt design, patch, and enamel pin are also available!