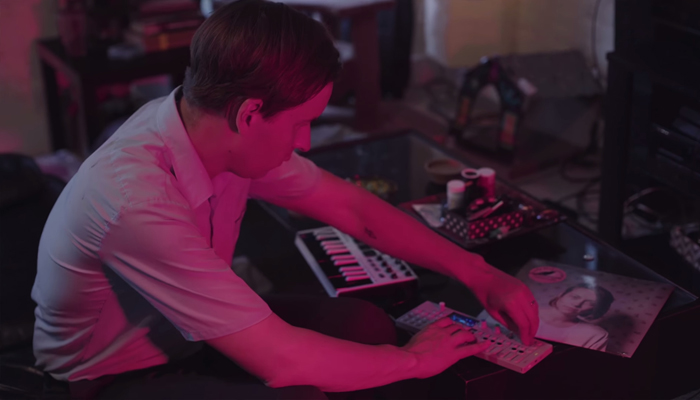 Listen to new Fred Thomas track "Altar" featuring Anna Burch ahead of Friday's album release
Posted 09/12/2018
Fall is so close we can smell it. Fred Thomas is bringing it home today with his latest single, "Altar", featuring backing vocals from his lovely label-mate Anna Burch. Watch the Ben Collins-directed video below.
"'Altar' is a song about feeling excommunicated by a close circle of friends, the kind of weird cycles of allegiances and disruptions that happen in small communities of difficult people trying to connect over their shared obscure interests." - Fred Thomas
Aftering arrives this Friday, September 15th. Head over to our E-Store to snag one of the remaining Early Bird editions on 180-Gram Blue/Gold Starburst. First 300 orders (on any physical format) include a unique collage handmade & numbered by Fred. Swooooon.
Fred Thomas will play a handful of shows with Owen this year before embarking on a North American tour with Anna Burch and Common Holly. Giddyup!
09/16 - Austin, TX @ The Mohawk (Indoor) + [SOLD OUT]
09/17 - Houston, TX @ White Oak Music Hall (Upstairs) +
09/19 - Detroit, MI @ Outer Limits Lounge
09/20 - Detroit, MI @ Third Man Records (In-Store) *
10/10 - Cincinnati, OH @ MOTR #
10/11 - Atlanta, GA @ The Earl #
10/12 - Knoxville, TN @ The Pilot Light #
10/13 - Asheville, NC @ Grey Eagle #
10/14 - Raleigh, NC @ Kings #
10/16 - Norfolk, VA @ Charlie's American Cafe #
10/17 - Washington DC @ Songbyrd #
10/18 - Pittsburgh, PA @ Spirit Lodge #
10/19 - Philadelphia, PA @ Boot & Saddle #
10/20 - Brooklyn, NY @ Baby's All Right #
10/21 - Portsmouth, NH @ Book & Bar #
10/23 - Montreal, QC @ La Vitrola #
10/24 - Toronto, ON @ Baby G #
10/25 - Ann Arbor, MI @ Blind Pig #
10/26 - Chicago, IL @ Empty Bottle #
11/30 - Seattle, WA @ Barboza +
12/01 - Portland, OR @ Mississippi Studios +
12/04 - Oakland, CA @ 1-2-3-4 Go! Records
12/05 - Los Angeles, CA @ The Hi Hat
+ w/ Owen, * w/ Kat Gardiner, # w/ Anna Burch & Common Holly